Icloud Bypass And Reset Tool
Icloud Bypass And Reset Tool
3,1/5

8540

reviews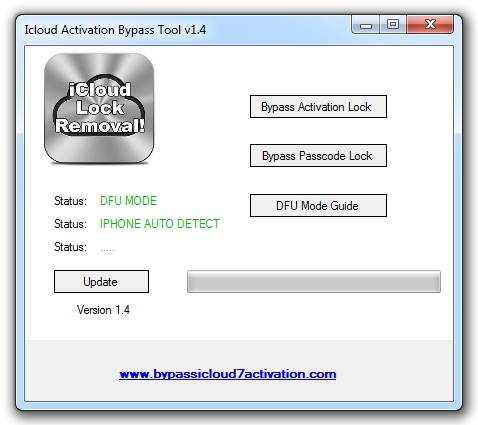 ICloud Hack Tool is a software tool which is specially designed to bypass iCloud Activation, remove an iCloud account or bypass the iCloud lock. So whenever you want to perform any of these tasks, iCloud Hack Tool is here to assist you on your side and iCloud Bypass Pro provides you the direct links for any download relevant to the tool. Free iCloud Unlock Bypass / iPhone / iPad iCloud Unlocker Tool March 3, 2017 Get your # iPhone or # iPad device unlocked from # iCloud with the latest software developed by us. In the event you are interested in the best instrument to bypass iCloud tools or even take out iCloud accounts you have visit the best location. Apple ID Backup Doulci Server GadgetWide iCloud Go Around iCloudin Activation Tool iCloud Initial Tool iCloud Removal Service iCloud Uncomplicated Open Application iCloud Unlocking application iPad.
Component 2: Top Free iCloud Account activation Lock Elimination Equipment 1. ICloud Get around Tool - iCloudin This iCIoud bypass tool pérforms efficiently and functions on all Apple Devices. It is certainly very simple to use and completely free. Users of this tool will attest to its effectiveness. Benefits.
Features of This Installment? Need for speed most wanted crack download.
Remove Icloud Activation Lock Free
It is definitely entirely free to use. It provides a excellent interface which enables for easy usage. It has built-in tutorials which assist you to grasp the utilization. It works on most iOS products, actually iOS 12. It provides no in-app buys or commercials Negatives. It offers no rankings and thus right now there's no definite information on its reputation.
Its internet site does not have got an brilliant interface and this hampers users in looking for it. Supported Products iPhone 6s In addition, iPhone 6s, iPhone 6 As well as, iPhone 6, iPhone 5S, iPhone 5C, iPhone 5, iPhone 4S, iPhone 4, iPad Air, iPad Small, iPad 4/3, iPad 2 2. Doulci iCloud Unlocking Tool It can be one of the nearly all efficient equipment for decoding activation locking mechanism, very easy to make use of and works on all iOS device (iOS 12 supported). It is not really a UI tool and therefore enables you to run your very own iCloud bypass machine. Benefits. It offers a 75% success rate in decoding iCloud service hair.
It is usually entirely free. It facilitates all iOS Devices and iOS Variations (iOS 12 integrated). It provides lots of tutorials to help you in the process. Extraordinary assistance is obtainable on the web site almost 24/7. Cons.
You are required to take part in a study before you cán download the software. Supported Products All iPhone models, all iPad versions, all iPod touch models 3. ICloud Bypass Device It is certainly one of the nearly all commonly used iCloud Account activation lock removal tools and can be used for various purposes like as bypassing iCloud account activation, bypassing iCloud lock Benefits and even eliminating an iCloud accounts. Advantages. It can perform more than one functionality. It functions with nearly all iOS gadgets. It can be very effective and easy to navigate.
Disadvantages. Its download rate is slow. Credited to its multipurpose functions, response time is certainly greater and it lags. It offers a relatively low ranking of 3.5 celebrities.
Icloud Bypass And Reset Tool
Supported Devices iPhone 6S As well as, iPhone 6S, iPhone 6 As well as, iPhone 6, iPhone 5S, iPhone 5C, iPhone 5, iPhone 4S, iPhone 4, iPad Air, iPad Small, iPad 4/3, iPad 2 4. Gadget Wide - iCloud Sidestep Device This is one of the best tools for decoding iCloud account activation lock. It is definitely user-friendly, suitable with most Apple devices and efficient. Pros. It is certainly one of the almost all highly competent tools on the market. It can be completely free to download and use.
It is highly efficient and easy to make use of. It has preconfigured environment which can make the process relatively less difficult. It offers a extremely fast turnaround period. Negatives.
You have to down load the software to your computer in order to make use of the tool. It is certainly less compatible with old products. Supported Gadgets iPhone 4s, iPhone 4, iPhone 5s, iPhone 5c, iPhone 5, iPhone 6, iPhone 6s, iPhone 6 In addition, iPhone 6s As well as, iPhone 7s As well as, iPhone 7s, iPhone 8, iPhone 8 In addition, iPhone Back button.
Free iCloud Accounts/Apple Identity Removal Tool If you want to remove the iCloud account or Apple company Identification, one of the best equipment for performing so is definitely. It can assist you get rid of your Apple ID simply in mins actually when you don't have the password for it. When you have an old Apple Identity on the mobile phone or just did not remember the security password of it, LockWiper can assist you obtain free of it without any problems.
With iMyFone LockWipér you can. Eliminate your iCloud accounts or Apple company ID without password in just minutes. Works with to eliminate Apple Identity from iPhone, iPád and iPod Contact.
It'beds simple and quick to get rid of the iCloud accounts without requiring any abilities. It can assist you remove all the data of the prior iCloud account/Apple ID. Here's how to make use of it: Phase 1. Start LockWiper and select the " Unlock Apple company ID" choice. Connect your device and choose " Begin to Uncover" to begin the process. LockWiper will immediately start to uncover your gadget if the See My iPhone is definitely converted off.
Epson perfection 1660 driver download. Notice: If your Look for My iPhone is definitely converted on, make sure you set up very first pursuing the education on the system. It will consider a few seconds, after that your Apple Identification will be removed. Notice:. Please make certain that your iPhone is definitely already triggered, after that you can use iMyFone LockWiper to get rid of the Apple company ID. Also, please take note that after the procedure it will furthermore erase all the information on your iPhone as well. If you need a Free of charge iCloud/Apple ID Elimination tool, test making use of iMyFone LockWipér.
With iMyFone LockWipér you can not really only get rid of iCloud and Apple ID rules, but you can furthermore open any iPhone passcode with just the contact of a several buttons. Doing therefore will allow you to secure any confidential details or data if you actually determine to purchase, market, or trade your iPhone.